She looked out in the distance, watching the radiant golden orb slowly sink below the horizon. If her calculations were correct she had another hour until darkness.
Another hour before it began.
Another hour till the blackness enveloped her, threatening to destroy all the light she had within.
She began her mantra – I must be strong. I have to keep fighting. I will not succumb to the demons that lay festering on the sidelines, lurking…. gawking. Waiting for their chance. Waiting for their time to pounce and devour my soul.
She stood, shoulders back, ready to fight for her life.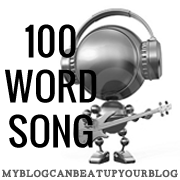 100 Word Song

is a writing challenge from

Lance

based on a weekly music prompt.

100 words

– no more, no less. This week's challenge was inspired by

The Great Flaming Lips', "Yoshimi Battles The Pink Robots.". 

And I made it a two-fer by incorporating

Velvet Verbosity

's 100 word challenge. This week she challenged us with '

Light'.